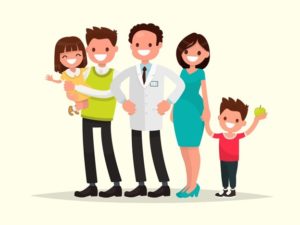 One of the most important aspects of maintaining a happy and healthy smile is by regularly visiting your dentist—but this isn't always easy, especially if you've got a large family to coordinate and many smiles to keep in mind! If figuring out the logistics of scheduling a dental visit for everyone in your family is a nightmare, have you considered finding a family dentist for you and your loved ones? There are many benefits to doing so; here's more about five of them.
1. Simplified Dental Care
Simply put, a family dentist can treat everyone in your household, from grandma and grandpa to your toddlers! This eliminates the need to visit other providers in different offices and on different days and allows you the option to schedule all of your family's appointments together. It also allows for continuity; seeing the same dentist each time is ideal, so that the same set of eyes is evaluating your oral health every visit.
2. Wider Range of Available Services
Typically, family dentists offer a wider range of available services in order to accommodate the many unique dental needs that a family might have. It's important that they can treat problems that occur in older patients as well as younger patients without having to send them to another dentist! This also eliminates the hassle of having to coordinate different treatments for different people; your family dentist should be able to take great care of every single family member.
3. Accurate Recordkeeping of Dental History
It's also much easier to keep tabs on your dental history if everything happens under the same roof! Establishing and building a rapport with one dentist will keep your dental chart, as well as your family's dental charts, from being potentially lost or misplaced. Jumping from dentist to dentist will only increase the likelihood of a serious problem going unnoticed or untreated but sticking with one family dentist will ensure that none of your vital details slip through the cracks.
4. Personal Relationships Are Developed
The more that you and your family visit the same dentist, the closer you all will grow to them and their team! Building this relationship makes it easier to have difficult conversations about you or your loved one's oral health. Being close with your dentist also helps to dispel any dental-related anxiety that anyone in your family might be feeling. Not to mention, dentists truly love getting to know their patients!
5. Positive Impact for Your Family
Putting a familial emphasis on oral health is important, and if your child bears witness to you calmly sitting in the dentist's chair for treatment, it can inspire them to do the same! Having a family dentist can also provide your little one with the confidence and motivation they need to continue practicing good oral hygiene throughout their life.
There are many reasons for choosing a family dentist, but these five benefits make it seem like a no-brainer if you have your family's best interests in mind.
About the Author
Dr. Kristen Langworthy has proudly served patients and families in the Fuquay-Varina community for several years. Dr. Langworthy received her dental doctorate from the North Carolina School of Dentistry and is a member of several professional organizations including the American Dental Association, the North Carolina Dental Society, and the prestigious Academy of General Dentistry. Her practice is pleased to offer many available services including preventive, cosmetic, and restorative options. To schedule a visit, feel free to contact her practice's website or give them a call: (919) 762-6887.