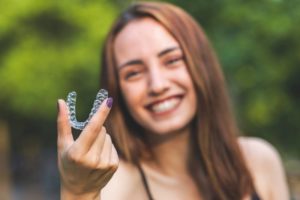 Advances in modern technology have made it even easier to get the straight smile you have always wanted. No longer do you have to commit to months of wearing the brackets and wires of traditional braces. Now there are more comfortable and flexible options like Invisalign! However, while they are many benefits as you progress toward more aligned teeth, they still require a bit of adjustment. Here's why Invisalign treatment can be a bit uncomfortable at first and what you can do to help.
First Things First: Why Is Invisalign Uncomfortable to Begin With?
As with other orthodontic treatments, Invisalign works by gradually applying pressure in order to shift your teeth into the desired position. This pressure breaks down bone tissue, allowing your pearly whites to move. While the treatment is completely safe for your mouth, you may feel slight tenderness because of the force it applies to your smile. In general, Invisalign is much more comfortable than traditional and the slight discomfort you experience in the initial days of treatment will quickly fade.
Easy Steps for Relief
While the adjustment period does not last long at all, there are some things you can do to make the first few days as comfortable as possible. Here are four helpful tips:
1. Take a Pain Reliever
Over-the-counter pain medications can help ease the slight soreness that occurs when you begin wearing your new aligners. They are typically most effective if you take it about an hour before putting in your aligners.
2. Have a Cold Compress Handy
If you are experiencing soreness in your jaw, a cold compress or ice pack can do the trick! Hold it for about 20 minutes against the side of your face to reduce swelling and tenderness. You can even try numbing your gums with an ice pack before placing your trays in your mouth.
3. Use a Homemade Mouthwash
As a natural solution, you can mix a half teaspoon of salt into a glass of warm water and gently swish it around in your mouth before spitting it out. Repeat this until the water is gone to decrease swelling and soothe irritated tissue.
4. Switch to New Aligners Before Bed
The discomfort of wearing new Invisalign aligners is usually the worst during the first hours of wearing them. Try putting in new aligners before you go to sleep so you can be asleep during the part of the treatment that makes your mouth most tender.
The journey toward a straighter smile with Invisalign is exciting. While there may be some initial discomfort, there are things you can do to make it more comfortable as your teeth begin to align!
About the Author
Dr. Kristen Langworthy is eager to help you achieve your smile goals! She graduated with honors from the North Carolina School of Dentistry and is an active member of several dental associations, including the American Academy of Cosmetic Dentistry. With advanced training in Invisalign, she uses personalized plans and advanced technology to successfully align your pearly whites. To schedule an appointment, contact her through her website or call (919) 762-6887.