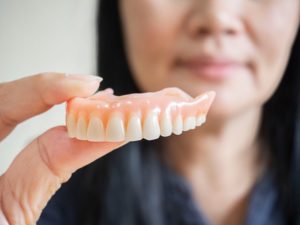 Dentures have come a long way since they were first used centuries ago. As a matter of fact, the current advancements in technology have made them more comfortable, functional, and natural looking than ever! This is why prosthetics are no longer just for older people; they are a possible tooth-loss solution for the younger generations too. Read on to learn more from your dentist in Fuquay-Varina about why dentures are no longer just for seniors.
Why Would a Younger Person Need Dentures?
According to the American College of Prosthodontics, more than 36 million Americans between the ages of 20-64 have no teeth and at least 120 million are missing at least one tooth. So, as you can see, those who are not senior citizens can struggle with tooth loss and need to find restorative dental care.
The following are the most common reasons for younger people to lose their pearly whites:
Severe tooth decay
Gum disease
Physical health issues that impact the condition of teeth
Poor diet
Teeth grinding (bruxism)
Tooth trauma
The Benefits of Modern Dentures
Since even younger people can suffer from losing their teeth, they will need to seek tooth replacement options. Luckily, dentures can offer them many benefits, such as:
#1. A Natural-Looking Smile
Today's dentures are now customized to fit your mouth perfectly. As a result, you not only have a more stable fit, but more lifelike results. As a matter of fact, most people will probably never even be able to tell that your dentures are not your natural teeth. Your prosthetic will restore your smile and your self-confidence.
#2. Easier Eating
No matter what your age, having an incomplete set of teeth makes eating difficult. It's harder to chew and swallow food with a gapped smile. Fortunately, dentures can restore some of your bite force, which will allow you to enjoy a wider variety of meals and snacks.
#3. Increased Comfortability
As stated above, the evolution of technology has made prosthetics better fitting. You would no longer have to wear big, bulky, or difficult dentures. They are now made to snugly fit over gums without causing irritation. Additionally, since modern dentures are lighter than those of yesteryear, you will barely notice you are wearing them!
About the Author
Dr. Kristen Langworthy and her team at Langworthy Family Dentistry are eager to help you restore your teeth! She graduated with honors from the North Carolina School of Dentistry and has completed many hours of continuing education at highly respected institutions such as SPEAR Education. By using advanced dental technology and personalized plans, she can assist in completing your smile with dentures for optimal comfort and function. To schedule a consultation, contact her through her website or call (919) 762-6887.