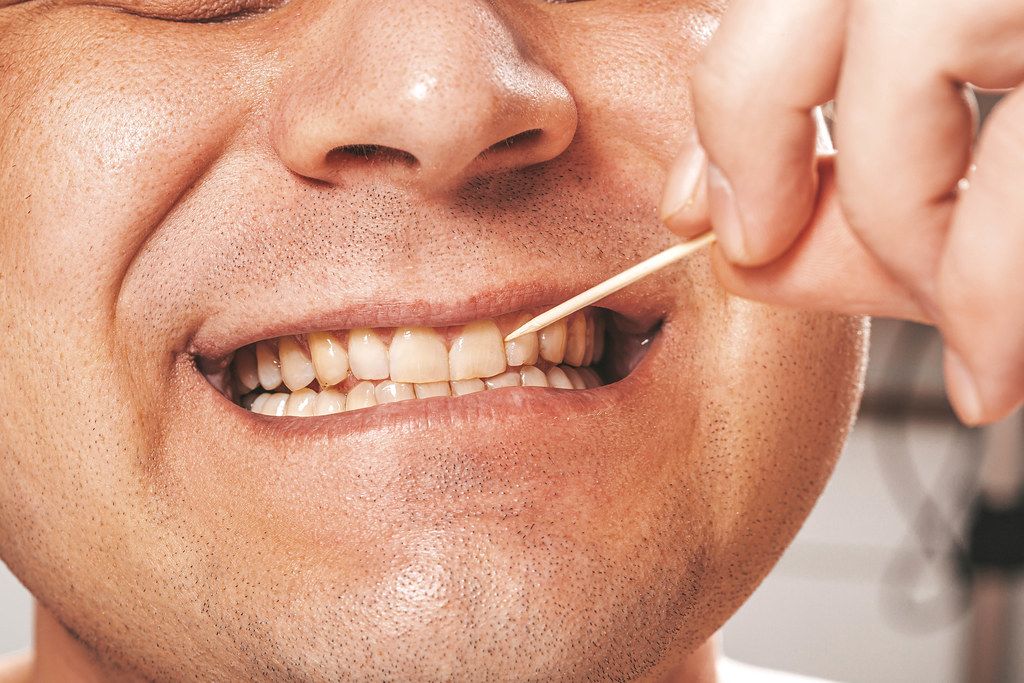 Following a meal, numerous individuals opt to use a toothpick to eliminate food particles lodged between their teeth. Toothpicks may appear to be a handy and portable solution for removing debris, but they can potentially cause oral health issues instead of providing benefits. Continue reading to discover three ways in which toothpicks can lead to dental damage and learn about alternative approaches you should consider.
How Can Toothpicks Damage your Mouth?
Toothpicks may seem convenient for cleaning your teeth after a meal, but they can pose various risks to your oral health, including the following:
Dental work – The use of a toothpick can inadvertently dislodge fillings or veneers from your teeth, resulting in damage to your dental work.
Breaking – Toothpicks have the potential to break and become stuck between your teeth or in your gums, and this risk is even higher with cheaper ones. As you can imagine, having splintered gums can be very uncomfortable.
Infection – Toothpicks can harbor unsanitary conditions as inserting them into the gums can transfer bacteria beneath the gum line, heightening the risk of infection. This can happen even if the toothpick does not cause significant harm to the mouth.
Lacerations – Lack of caution while using toothpicks can lead to unintended injuries to the gums, tongue, or palate. There have even been instances where toothpicks have inadvertently pierced the roof of the mouth.
What to Use Instead of Toothpicks
While you may be tempted to use toothpicks after a meal, as we've discussed, they can pose risks to your oral health. So, what should you do instead? Here are a few options:
Floss picks – Floss picks are compact plastic tools equipped with a length of dental floss threaded through them. They offer convenience and can effectively remove food particles from between your teeth without the risk of splintering or causing harm to your gums.
Interdental brushes – nterdental brushes, also known as interproximal brushes, are small brushes specifically designed to clean the spaces between your teeth. They come in various sizes, allowing you to select the one that best suits your needs. These brushes are particularly beneficial for those with larger gaps between their teeth.
Water flossers – Water flossers utilize a powerful stream of water to effectively eliminate food particles and plaque from between your teeth. They prove to be especially useful if you have braces or other dental appliances that make it challenging to use regular dental floss. Additionally, water flossers can be highly beneficial for individuals with mobility issues, such as arthritis.
Chewing gum – Chewing sugar-free gum following a meal can aid in the removal of food particles from your teeth and stimulate saliva production. Saliva helps neutralize the acids responsible for tooth decay, promoting better oral health.
About the Practice
Langworthy Family Dentistry offers a range of treatments that can help prevent oral health issues. Their team of friendly, experienced professionals is committed to helping patients achieve beautiful smiles. They offer a range of services, including emergency services if you get part of a toothpick or another object stuck in your teeth. Additionally, they can offer alternative methods of dislodging things stuck in your smile. Visit Langworthy Family Dentistry's website or call their office at (919) 762-6887 if you want to schedule an appointment or to learn more about their services.